Surviving the World
A Photocomic Education by Dante Shepherd
Lesson #1298 - The High-Five Theory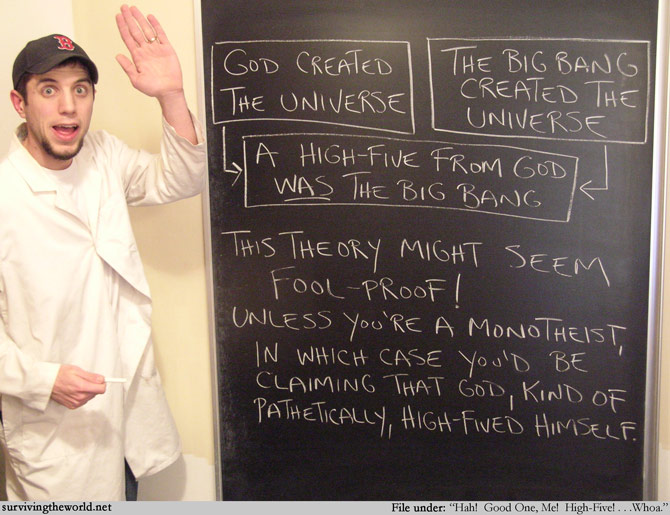 Although to be fair - the above theory would give some people some credence that they were formed in God's image. Although that's a pretty lousy way to be able to make that claim.
THIS WEEK'S AND NEXT WEEK'S HOMEWORK: Like any good professor - let me double the load.
So - what with the site getting blacked out and the holiday weekend this past week, I'm extending last week's homework by another week. So due next Thursday at noon is the homework originally posted last week: "In less than 200 words, explain why someone is an unsung hero to you." Email your response in with the subject line "HOMEWORK: HEROES".
Then, due in two weeks on 2/2 at noon is the new assignment: "Capture the essence of you giving a high-five." Your answer MUST be visual - i.e. photo, video, art, nothing written - and you must be part of the high-five. Email in your response with your name/location and the subject line "HOMEWORK: HIGH-FIVE".
I have a feeling the new one will be fun. Best response for each receives a small prize from me. Enjoy.