Surviving the World
A Photocomic Education by Dante Shepherd
Lesson #1397 - Stupid Decisions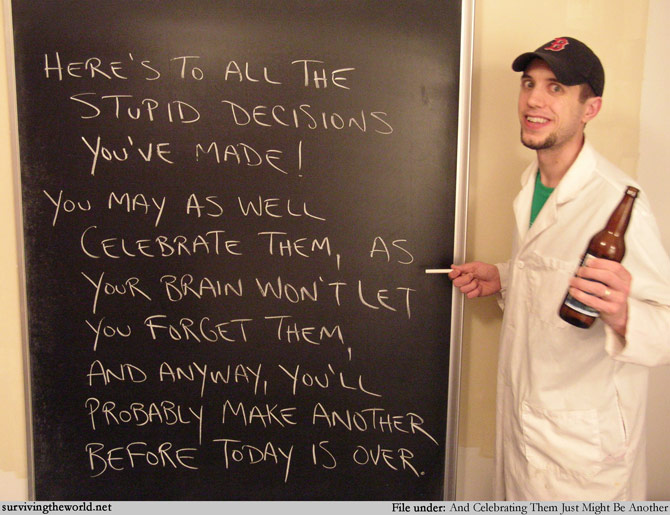 If you forget your history, you're doomed to repeat it. If you celebrate your terrible history, you're doomed to create new terrible history. But hey, at least you'll be original.
TODAY, MAY 15TH, IS STUPID DECISIONS COMMEMORATION! Maybe you remember this comic I made at the beginning of the year, proposing new holidays to celebrate? Well, May's is upon us, and it's time to party in recognition of the fact that you (and everyone else) has been an idiot many times over. We've all made a number of dumb choices in our lives – so celebrate this one day with friends to share the moments of your stupid decisions and hopefully laugh at them – moving you beyond them and helping others not to make the same terrible choices.
OTHER NEW HOLIDAYS: Because of Cannonball's sudden jump into my life, I kind of forgot to remind you about the holiday I proposed for last month, Frontier Day. Well, amazingly enough, a couple of you did not, and went about marking it in your own way. This comes in from Leandra:
"Not sure if you remember the post of "new holidays" but my friend and I have vowed to celebrate a few of them and today was Frontier Day. We traveled about 2 hours away got lost in a town we had never been to, ended up at a zoo and then on the way home found an aquarium. We pet stingrays and fed flamingos and did about 200 things we've never done before or thought we'd do. Thanks for the inspiration it turned out to be an extremely awesome day!"
So hopefully your celebration today will be as good as their celebration was?