Surviving the World
A Photocomic Education by Dante Shepherd
Lesson #1563 - Reasons To Vote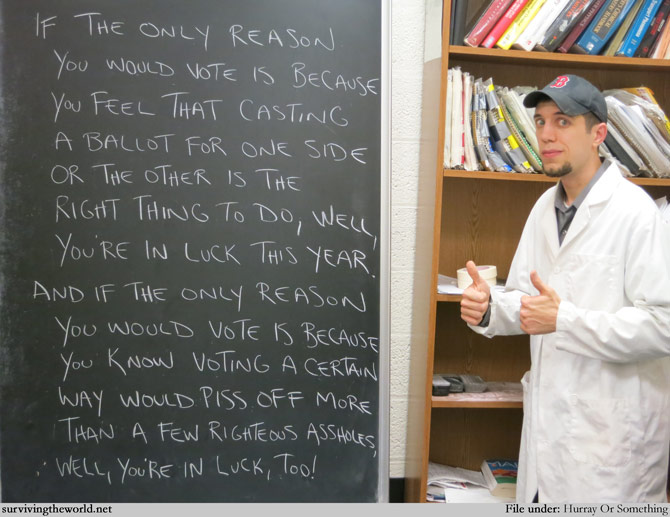 Regardless of what you think of the two major candidates - although the above comic could certainly apply to the viewpoints of either side, depending on who you're talking to at the moment - there are many other important issues on the ballot this year. In Maine, Maryland, Washington, and Minnesota, there are same-sex marriage initiatives that, if any of them succeed for the gay rights movement, would be the first time that same-sex marriage has won in the voting booth. Perhaps you're disappointed that the same initiatives aren't an option for you? Well, depending on who you vote for your local government, they may be soon - or maybe they wouldn't be in the state they are now if more people had voted for elected officials who weren't interested in denying rights to certain citizens.
Maybe gay rights isn't your biggest concern? Perhaps you feel strongly about medical marijuana, or perhaps assisted suicide, or gambling, or green energy. There are initiatives on all these matters and more throughout the country. Not to mention, there are probably a number of great local candidates for whom your vote would matter and would count.
Seriously, go and vote - and if you really care about a certain issue, like gay rights, go get your friends and neighbors to vote as well. When we don't take part as citizens, that's when we're left with problems we don't have any excuse for.
STW SHIRT SALE: Right now until next Monday, you can get free shipping on any STW shirt! Basically, it's a 20-25% discount! So if you had wanted to get some shirts for the holidays, this is a good chance to do so. Use the coupon code "SURVIVETHEHOLIDAYS" at checkout. Thanks for supporting the site!