Surviving the World
A Photocomic Education by Dante Shepherd
Lesson #1773 - Anniversary, Part V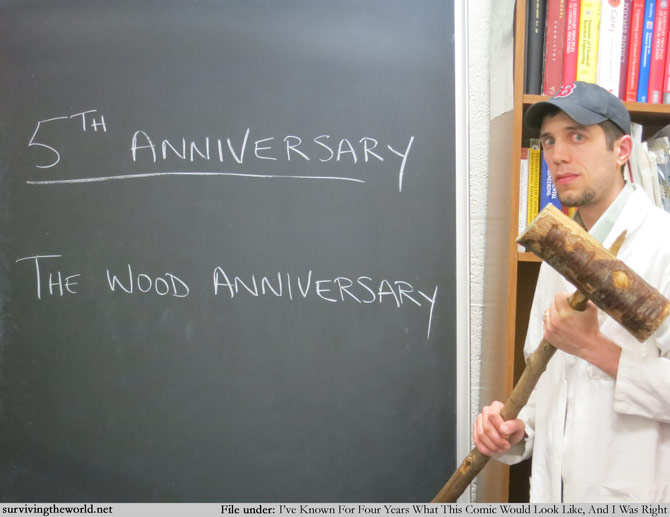 Mallets for everybody! If only they were also available from the florist, then anniversaries would be so easily to buy gifts to commemorate.
Anyway, yes, today marks five years of STW! Thank you all for being such great readers over these past few years and making the comic so fulfilling for me. So let me make a few major announcements today, on top of the Science The World (collaborating with K-12 educators) and PhD Unknown (my other webcomic) that I've already made this past month:
Many of you have asked for a collection of STW comics for a while now, so in response, with the help of Topatoco and Make That Thing, sometime next week will see the launch of a Kickstarter campaign to help make STW page-a-day calendars! This is something I've been trying to put together for over a year, and wouldn't be able to pull off without Topatoco's help. We'll have a bunch of really nice rewards for anyone who contributes - including some handcrafted mallets for a few people - so make sure to check back for when it finally starts. In the meantime, here's a potential example of the final product.
Just as many of you have asked for an app for STW (I think not realizing that time and effort does not just grow on trees?) for years, so I'm also happy to announce that starting Monday, STW will be available through the Comic Chameleon app! STW will be available on the app with new updates starting Monday and with the full archive to be added later. Comic Chameleon is the only app that has many top webcomics and actually compensates the creators for their work, so I'm really excited to be part, and I hope the many of you who wanted an app will make use of it.
What? You want yet one more announcement? OK, OK - based on requests, I'll bring back recitations sometime soon, too.
And . . . that's all I've got. Thanks everybody! You guys rock. And no, I'm not calling you a rock.