Surviving the World
A Photocomic Education by Dante Shepherd
Lesson #2533 - Ability and Reputation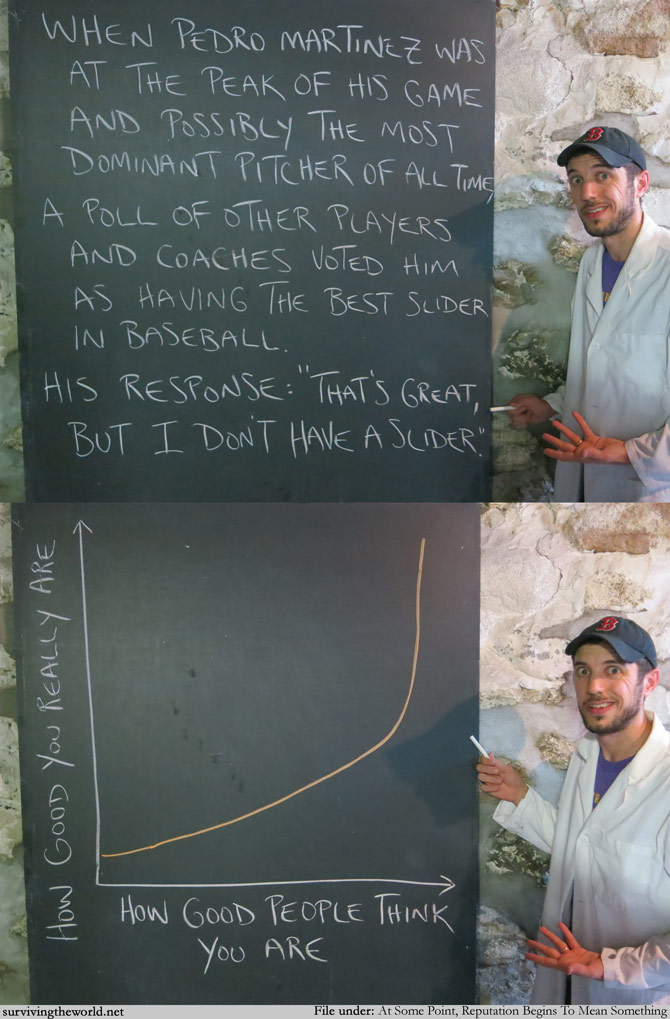 It's hard to explain Pedro to people who didn't experience him and his presence in some way. He was incredibly intelligent, rightfully prideful, caring, fun, and just somebody you were drawn to. He remembered every slight against him and used them all as motivation to become even better. He won three Cy Youngs and might have deserved at least two more. Many fans have their favorite Pedro stories and experiences - I was lucky enough to see him with my family on my sister's 16th birthday, when he proceeded to strike out 16; I was fortunate to go to Fenway with my dad and sister and see him throw his final complete game; I can think of an endless number of games when you just watched him pitch and loved every second of it. He was unbelievable, and the story above certainly contributes to that overall legend - so good that all of his colleagues think he's the best at something he didn't even do.
My favorite Pedro story, though, comes from 2003, when the Red Sox TV network was (for some reason) occasionally having players sit in their post-game studio and answer phone calls from fans. It was not a particularly memorable weekly segment, beyond the time that Kevin Millar had done it on the same day he had dyed his hair blonde and had cornrows put in his hair and looked terrible. But they were hyping up the fact that Pedro - PEDRO - was going to be in the studio all game.
So he's sitting in the chair, smiling his little smile that he did, and he answered one call with some answer or another, and then the studio takes another call. It's from some woman named Elaine, and you can hear from her voice that she sounds like an older woman, possibly a grandmother. And she says, "Hi, I'm Elaine from (wherever), and -" and she stops, and you can basically hear her blush across the audio feed as the moment hits her that she's talking to Pedro. And then after the blushing pause, in a quieter, admiring, shy voice, she says, "Hi, Pedro."
And he smiles and says, with warmth and caring and appreciation, "Hi, Elaine."
And it was such a goddamn perfect moment. That's my favorite Pedro moment.
And now he's a Hall of Famer. Hurray.