Surviving the World
A Photocomic Education by Dante Shepherd
Lesson #2593 - Family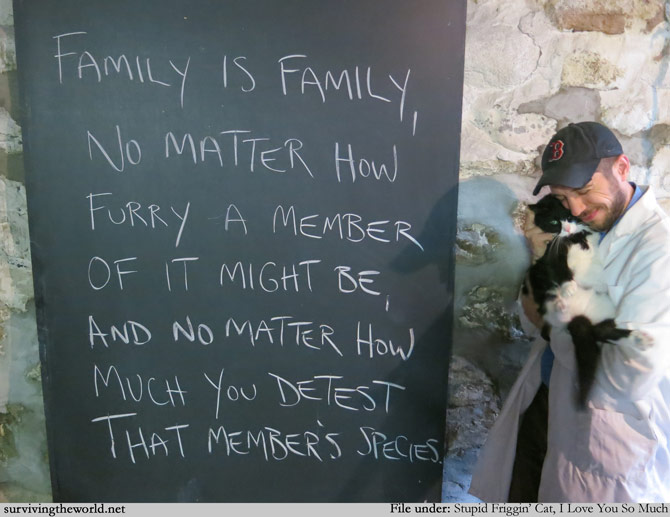 In comparison to the four previous times (for two births and two deaths) that STW has gone on a short hiatus, this one was thoroughly unexpected, but on Sunday when I got home from Topatocon, Wakefield somehow snuck out an open door and got free from the house. We didn't realize it until Monday but basically spent the last few days roaming the neighborhood, shaking cat treats, leaving out food, posting signs, and doing whatever we could to entice him back home. It's not like we were worried about predators - there's a family of wild turkeys that roams the neighborhood, and walked through the yard at least twice on Monday - but Wakey is still a family member, even he is a cat.
I saw him right outside the door late on Monday night, but when I went outside to open the door, he took off, skittish. I saw him late on Tuesday night, but he ran away from theSwede. Waiting him out for two nights didn't work, although we did see multiple rabbits and the neighborhood albino skunk walk by. So last night we set up a Have-A-Heart trap and turned off the lights and hoped tuna would bring him in after a day of tremendous amount of rain.
And the trap went off at 9:30! And we went outside to bring back in our lost cat!
And were greeted by an angry opossum. So that was fun.
Three hours later, though, the trap went off again, and Wakey was finally returned inside.
So I'm sorry for missing three days of new STWs, but I hadn't really been in the mood to make comics. But all is well now, and Wake has adjusted immediately to being back home. So now we can continue with more comics like normal (a far minor thing in comparison, really)!
CON SCHEDULE: MICE (October 17 and 18)