Surviving the World
A Photocomic Education by Dante Shepherd
Lesson #529 - Christmas Births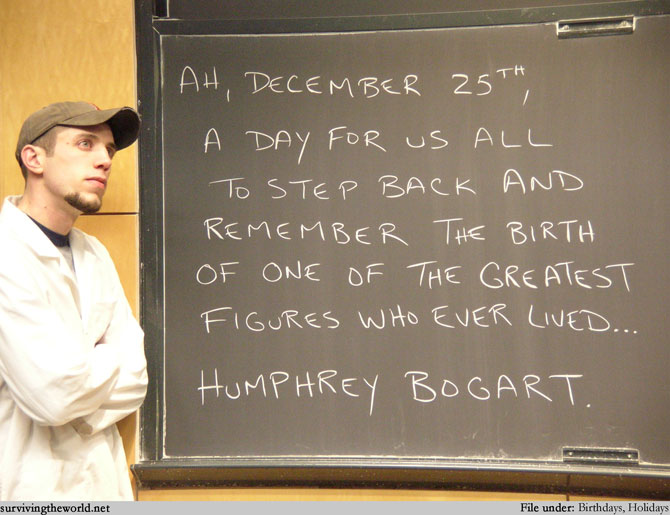 Really wanted the punchline to be Rickey Henderson, but I figured most non-Americans and non-sport fans wouldn't have heard of one of the greatest illeists and kings of malapropism ever. Bogie will just have to do in his place. (Oh, wait, someone else was supposedly born today? Hmmm.)
I sincerely hope all of you have a very happy holiday season, no matter what religion, if any, you practice. Whatever you believe and whatever you celebrate, I hope you're able to partake in some of the joy of this time of year. Regardless, please allow me to share with you one of my favorite Christmas stories:
I used to work in a Boy Scout camp back in the day, and we had a Protestant chaplain there who was a fan of the hard liquor, if you know what I mean (what I mean is that he was a fan of hard liquor). One day, in the middle of July, he came up to two staffmen who were walking across a large field, and he decided, for some reason, that it would be appropriate to wish them a Merry Christmas. Unfortunately for him, it was not only July, but he was also very drunk. So when he came up to them, all he was able to say was -
"MERRRR-DE-MERRRRRCK-MERRRRR!"
-and then he stormed off, leaving the two staffmen not only very confused but also very in hysterics. Whenever Christmas rolls around, for some reason, that story always pops into my head.
Merrrr-de-merrrrrck-merrrrr, everybody. Happy holidays.