Surviving the World
A Photocomic Education by Dante Shepherd
Lesson #1245 - Cousin Marriages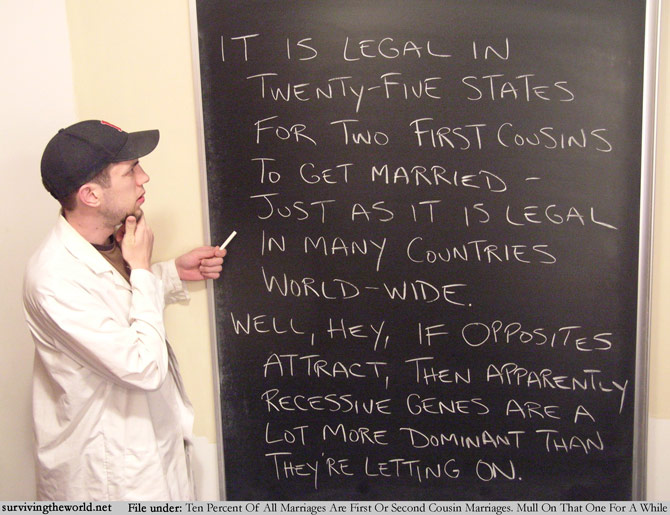 That there are severe genetic repercussions to such marriages seems to be such a widely accepted fact that any study or report about cousin marriages just kind of hits you out of nowhere. Ten percent of all marriages? And it's not just 'genetic roulette', as one politician once called it? This is something I need to wrap my head around. But, hey, if good looks are genetic . . .
- - - - - - - - - - - - - - - - - - - - - - - - - - - - - - - - - - - - - - - - - - - - - - - - - - - - - - - - -
I am excited to announce that I have been offered the opportunity to form a partnership with Spreadshirt, which has been producing STW shirts for the past year. While there's a number of ways this will help behind-the-scenes, it also means that I'll be able to open branches of the STW shirt store based out of the UK and Germany - so a wider range of countries will be able to receive shirts, and shipping costs will no longer need to include the overseas cost! You'll also be able to use some of the designs for other products that won't be offered in the store, so if you've wanted a wider range of options, now you'll be able to play with that as well. And even better, I'll be able to offer STW-specific coupon codes from time to time! So it's good news all around.
As such, I'm able to offer STW Cyber Monday for STW t-shirts, andt here are now three new STW t-shirts! The coupon code (good only for today!) for the US and EU sites is "SURVIVAL" and for the UK site is"SURVIVIALS". Thank you, everyone, for helping support STW. Enjoy!