Surviving the World
A Photocomic Education by Dante Shepherd
Lesson #1372 - Television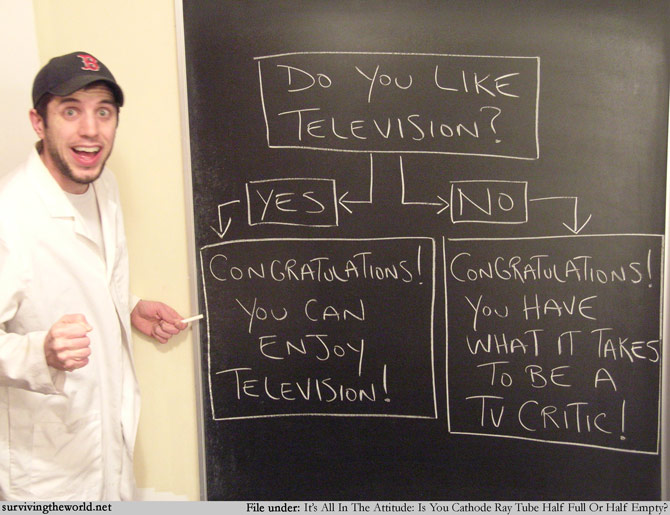 It's been a running joke between theSwede and me lately: "Hey, want to take a guess what Hank Steuver thought in his latest TV review?" He had a great streak going that could be best summed up by the phrase "hating everything" - including a delightful line about Mad Men not being in the business of making people happy and not being in the business of making him particular happy. But certainly there are many other critics who seem more cantankerous about television than ready to be entertained.
It's an interesting parallel in a way to scientists - scientists try to reinforce the validity of theories by highlighting and solving weaknesses or flaws in the data, while TV critics seem to be more interested in looking for flaws or weaknesses than highlighting the best work. Their discerning insight may indeed be helpful so you can avoid some of the crap that's out there, but man, what a negative way of partaking in entertainment.
BABYWATCH: Still no baby yet. In other news, I am about halfway through completely ravaging a drawer I found in the hospital kitchen that for some reason is full of individually packed saltines.