Surviving the World
A Photocomic Education by Dante Shepherd
Lesson #1488 - Moving . . . With Pets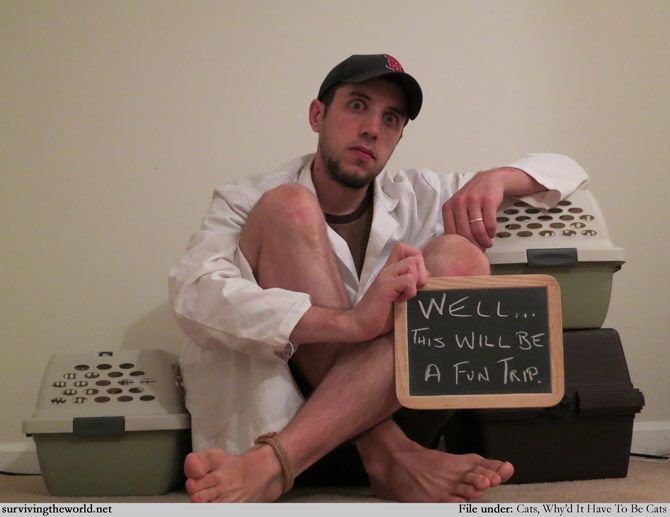 "Meow!"
"No, we're not there yet."
"Meow!"
"Oh? What's that?"
"Meow!"
"I sincerely doubt that."
"Meow!"
"Because you're a cat. It's highly unlikely."
"Meow!"
"Look, if humans haven't yet mastered cold fusion, cats aren't just going to figure it out. You're lying."
"Meow!"
"I don't care what the ancient Egyptians said. You don't currently have a Ph.D. in nuclear physics."
"Meow!"
"The University of Hairball A&M Tech is not a real school."
"Meow!"
"I think you dreamed that up while on catnip."
"Meow!"
"No, I was not offering you more catnip."
"Meow!"
"Threatening me with murder if I don't give you catnip will not help you get catnip."
"Meow!"
"Murder is not the answer. You always suggest that."
"Meow!"
"Yes, well, good luck getting out of that carrier first. Now shut up, we've got six more hours to drive."
"Meow!"

Goodbye, Maryland! Today we begin our move up to Massachusetts, to some fictional town name that I haven't thought up yet. I've got a few comics in a backlog, so you haven't seen the last of the poorly painted storage closet, but the blackboard will soon be in a new locale. Anyway, I'm glad my wife is driving the car with the three cats and not me. Because I would have too much fun responding to them, like above, the entire way.