Surviving the World
A Photocomic Education by Dante Shepherd
Lesson #1500 - Chalkboards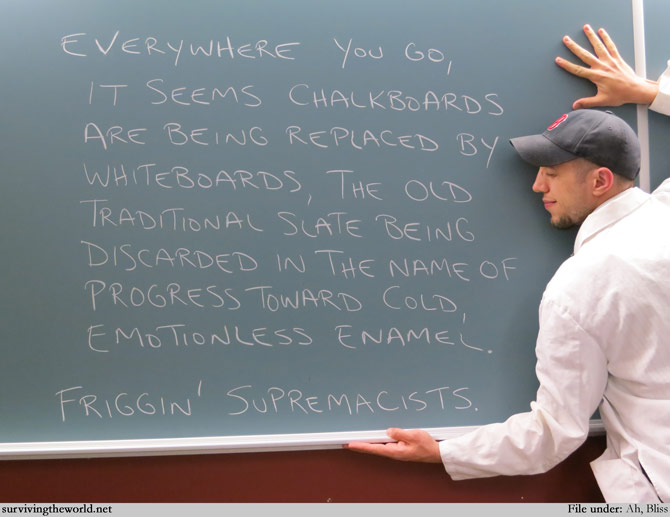 Chalk will always survive! It will live on, even if I have to become a sole traveler across the land, chalkboard strapped to his back, as I ride along on my oversaddled horse, dog by my side, being hunted down by the Dry Erase Gang for crimes against something or other, and this dystopian future concept is quickly becoming a little too ridiculous, so let's stop with that.
But hey, 1500 comics! Thank you all for reading along this far and for continuing to be a member of the class, no matter how long you've been enrolled.
And look at this fancy new site design! Major thanks to Ross for putting it together - it's a beauty. (You may be saying, well, yes, but why is it only a fancy new design on this singular page? Well, I did say multiple times how poorly I designed the site . . . so it will take a while for the rest of the pages to catch up. Do give it time, please.) And a number of the options you've been hoping for - a "share this comic" option, a "search" option, direct links to the social media sites - are a part of it, too, so I do hope you enjoy.
Anyway, thanks for being a great bunch of readers! Here's to another 1500. Hope you kids stick along for the ride.