Surviving the World
A Photocomic Education by Dante Shepherd
Lesson #1766 - Unknown Species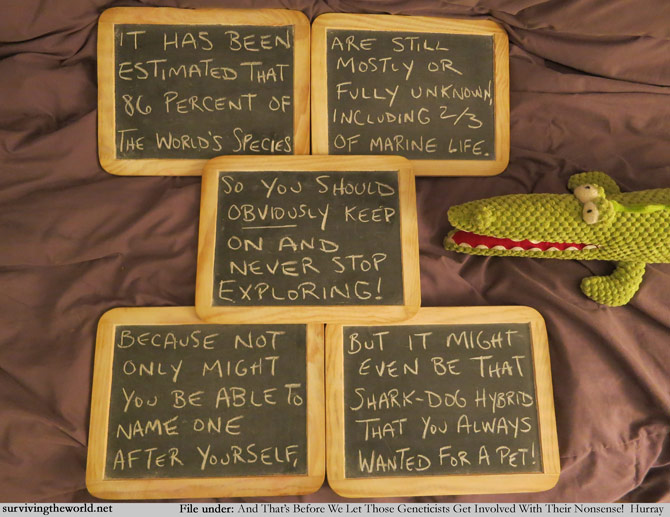 Sure, many of the some 8.7 million or so may be insects and mollusks, but if you take that kind of attitude, we'll never find the shark-dog hybrid! And then it will be all your fault! For shame.
So, with that being said, I'm very happy to announce the launch of my new weekly comic that I'm writing with Joan Cooke, PhD UNKNOWN! It's a comic about the study of unknown creatures with plenty of science and college life thrown in for good measure. Joan's artwork is really bringing these characters to life, and I've had a lot of fun writing it, so we hope you will enjoy it as much as we do. We're launching with three new pages today before we settle in to a more normal schedule, so you can get started right here on the beautiful cover page. This is just the beginning of many chapters to come in the lives of Ben and Dr. Mann and Vonnie and all the rest, so if you've been a fan of STW, I hope you'll become a fan of PhD Unknown, too.
As part of the launch today, Joan will be running a draw-me-anything over on Reddit, so I will post a link on Twitter and back here as well once that gets started (UPDATE: here's the link).
This is just the second of three big STW announcements this month, after Science The World and before the third to come next week. None of this would be possible without all of you. Thanks!
SCIENCE THE WORLD: Are you a K-12 teacher in STEM? Check out our group and join us!