Surviving the World
A Photocomic Education by Dante Shepherd
Lesson #2344 - New Year Frequency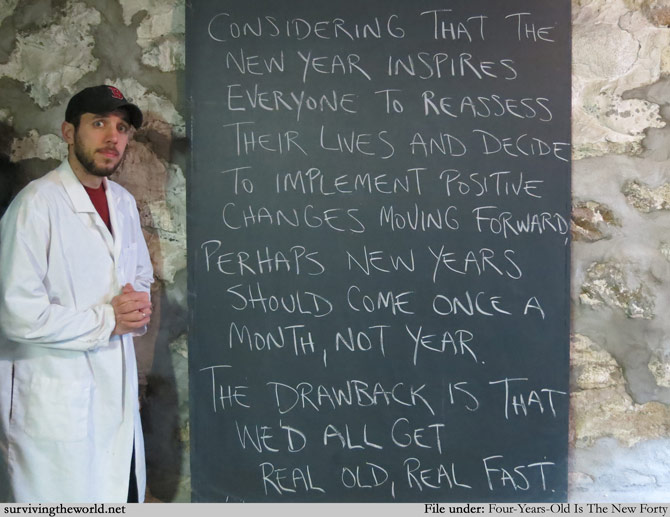 I don't know, maybe you could have convinced me back in 2013 that a resolution of not eating raisins was a good idea for a month, but probably not an entire year.
And thus, with the first day of January 2015, we have reached the end of the 2014 STW calendar. Alas! I hope all of you who had one enjoyed it as much as I did. Now, to finish the final obligation of the Kickstarter that helped us make it, I would like to thank the following individuals and people who contributed and thus have made the STW Dean's List - with a STW-given nickname to go with it.
(The nicknames were almost entirely random, so if you don't like the one you got, I suppose you can always steal another one from the list. It's not like I can truly stop you. You're just somewhat turning up your nose at the faux majesty of the dubbing process.)
My sincere thanks to all of you!
| | | |
| --- | --- | --- |
| THANKS TO: | | I HEARBY DUB THEE: |
| Veronica Jane Milroy | - | CLAWS AND EFFECT |
| Tony Harmelink | - | SHARKANGEL |
| Spenser Kollath | - | GNU D'ETAT |
| Priya | - | JAZZARDOUS |
| David B. Cabello | - | LIARCRACKER |
| Sam C. | - | ACID TRAIN |
| Christian Homme | - | ZOOTRINO |
| Jessica "Prime" Carroll | - | ZEAL LION |
| Daniel Quevedo | - | STEELHOUSE |
| Anna Maranise | - | WHAMBUNCTIOUS |
| Btabita | - | THUNDERESTIMATED |
| Rob Connatser | - | SKINFAMOUS |
| Nick Penner | - | WHISKEY BUSINESS |
| Jesse Stringer | - | PSIBEROPTIC |
| Joshua K. Martin | - | CHALK PAPER SCISSORS |
| Am Zyxnfryx | - | PROFOUNDPROOF |
| DJ D. | - | HORACE |
| Michelle DuLapin | - | DUCKSEDO |
| Courtney L | - | DESTROYSMAKER |
| Jeremy | - | FERALDACTYL |
| Kathryn AP | - | SLEAZEBURGER |
| Suzanne T | - | DAYSCHEME |
| Lauren Siegert | - | HOBO-WAN KENHOBO |
| Dan Najjar | - | SCREAM-POWERED |
| Paula Fossen | - | SCORNADO |
| Andrew K. | - | CROWAWAY |
| Kathrin Brogli | - | SKYRIGHTER |
| Joey Gannon | - | SLAUGHTERFALL |
| Jedi Student | - | GHOULPROOF |
| Meaghan Bychowski | - | DR. TREMENDOUS |
| J.D. Chittim | - | GROUPERNATURAL |
| Ethan P | - | SPOONBEAM |
| JETurn | - | PRAWNFIRE |
| Julie Planes | - | THUNDERBLURRED |
| @kcunning | - | BREADNECK |
| Chuck Butler | - | HELLOCIRAPTOR |
| Zyla | - | SMUTSOEVER |
| Maxine | - | SLEDGEHOG |
| M Duncanson | - | BEESTRUCTION |
| Jareth Arnold | - | PLANTAGONIST |
| Barben | - | CROWTAGONIST |
| Blake Jones | - | INCEPTOMANIAC |
| Sami Sioux | - | BOARHAMMER |
| Brooke Turney | - | GROUSEFLY |
| Caitlin Hart | - | BEARHANDED |
| Kaida Jekri | - | KILLER SNAIL |
| Greg Layton | - | STRUTTERFLY |
| Kory S | - | CROCKEYE |
| Scott Rux | - | KEYNOTE STREAKER |
| Charley Tango | - | BATTLESNAKE |
| Finbarr Farragher | - | SPHEREMINT |
| Windoor | - | BLISSILLUSIONED |
| Anansa Green | - | DOLPHIN STEAK |
| hellothere03 | - | FORCERADISH |
| Carole Jeppesen | - | SCRODZILLA |
| Kira Hatfield | - | AXE COLLECTOR |
| Kurt Manwiller | - | FLUKEWARM |
| Anna May | - | PRAWN QUIXOTE |
| Sam Newman | - | JELLYBEAN, PH.D. |
| Sloth Godfather | - | SIR PASS |
| Adam Milner | - | NOOGIE-WOOGIE |
| Devilocerous Maximus Junior | - | BOARFATHER |
| Ben Antons | - | FLEXTRAPOLATE |
| Hallelujah The Hills (the unofficial band of STW) | - | HYPNOTHALMUS |
| M. Ring | - | KNOTTY OR NICE |
| The Vinyl Princess | - | BLOOD HONEY |
| Amanda and Chad Bergeron | - | TROUBLESNOOT |
| Jen Vogel | - | NORTHERN MIGHTS |
| Becky Fehn | - | CREPEGOAT |
| Courtney M Curtis | - | BLOBSOLETE |
| Andrew Gott | - | DETENTREBAND |
| Peggy | - | GROG ON THE ROCKS |
| Mwako | - | SCOREWARD |
| EllTee | - | BOARNADO |
| Sara | - | SHANKLEBONE |
| Megan Sullivan | - | BREADACHE |
| Yuri Min | - | HORSEFIELD |
| Christine Poole | - | PSIWALKER |
| Nick F. | - | QUADULTIMATE |
| megha | - | TOWN SCRYER |
| Kevin Davis | - | ROB SEQUIOUS |
| Cathy K. | - | GLASS KNUCKLES |
| Bethany J | - | LOONSTRUCK |
| Ann F. | - | FUZZBUMP |
| Karen Serocki | - | LIEUTENANT PETE |
| Elizabeth Psyck | - | ECLECTOMAGNETIC |
| Erik Hawkins | - | SPLICE OF LIFE |
| April Powers | - | IMSAUCEIBLE |
| Liz A. | - | MR. NEFARIOUS |
| Andrew Starkey | - | TROUTSTANDING |
| Lindsey Pitts | - | CAYENNTERTAINER |
| JabberingIdoit | - | BEAUTY CREEP |
| Amber Choquette | - | THROBBING JANE |
| Michael Rusty Johnson | - | KNAVEYARD |
| Haylor Archer | - | BLUNDERSTORM |
| Justin | - | MAUVE |
| Mike Lipsie | - | BEARTAKER |
| EJ Meyer | - | BACKSPIRE |
| Vicki Silber | - | SINNOVATOR |
| Patrick J. McDonald IV | - | GOURDFATHER |
| Trina Talma | - | SHANNONBALL |
| Colleen | - | WONDERBOLT |
| Honnorway | - | TOOTHCHASTE |
| David Fenko | - | FEARWORM |
| Oliver | - | PEG |
| Aleksandar Odorovic | - | SKULLTIPLICATION |
| Meli Mathis | - | TANKXIOUS |
| Melissa G. Waugh | - | FLAYDREAMER |
| Alyssa Daigle | - | PROTESQUE |
| Matt | - | MITRE CLAW |
| Susanne | - | TANGENTIAL |
| Chris Matlick | - | BEARBORNE |
| gotfirth | - | THOUGHT POTATO |
| Shaon | - | CORPORAL SCALAR |
| Socaddict | - | JAWSTROPHOBE |
| Allison Whitehall | - | BEAROMATIC |
| Astralnature | - | SCARABELLUM |
| Damian Simmons | - | SHARDIAN |
| Tom Weber | - | JOHN DEMNED |
| Andrea Adams | - | KITE OR FLIGHT |
| Tara Maczuzak | - | TRACHEA |
| Patrick Collum | - | KINGWORM |
| Sky "Chem Eng's do it in Packed Beds" Anderson | - | PAPER MACHETTE |
| Grant | - | PSYLANDER |
| Bailey H | - | SHIVALROUS |
| Billy Burgess | - | MISS TRIBUTION |
| Karen and Michael Johnson | - | WHOAMENTOUS |
| A. Freeman | - | STORMBLOODED |
| Samo | - | LOONWALKER |
| Liz C | - | SHINCONCLUSIVE |
| Lara | - | SHREDLOCK |
| Meg Anderson | - | CLOCKWORK POMEGRANATE |
| Matt Powell | - | SHRUBSTANTIAL |
| Esther Rivka Hatkoff | - | GNAWCILITATOR |
| finstergrrrl | - | SHARKPLUG |
| Paul | - | CAPER MACHE |
| Christopher Dickinson | - | CURBLUDGEON |
| LeeM | - | NIGHTBEAR |
| Amanda M | - | COLONEL TORPID |
| Ruth Ann Francis | - | MIRTHBOUND |
| Genoveva | - | SHIRLEY BURLY |
| Eric Rapos | - | SECRET YETI |
| Morris Umali | - | GHOST POPE |
| D^2 | - | NUNKNOWN |
| Matt Eskew | - | BOARRENTIAL RAIN |
| Chris Kitts | - | QUARK MATTER |
| Justin Time MacDonald | - | PHENOMINATRIX |
| Darren Vallance | - | REIGN OF SALT |
| Alfadas | - | UPSWILL BATTLE |
| Heather | - | HAUNCHING PAD |
| Eric W | - | GLITCHBACK |
| Esther Pew | - | SWEET AND POWER |
| Kristen Amundsen | - | TEQUILA FLY |
| Robin Ker | - | BATTERING LAMB |
| Required | - | LYREFIGHTER |
| Biscus Davis | - | TRUTHPASTE |
| Wesley Farber | - | NERVEBALL |
| Zach Feinstein | - | TIMAGINARY |
| Ashley Schuster | - | STUPORSONIC |
| What? | - | ROCK NESS MONSTER |
| Tessie K | - | SCHEHAZARDE |
| M. M. Kay Schmidt | - | CUNNING WITH SCISSORS |
| Elegor | - | TRICKSAND |
| Elizabeth Davis | - | OLD HOSSPAN |
| Virginia Brunner-Livingston and Clancey Livingston | - | DREAD PIE-RAT |
| sallydvm | - | YAK OPS |
| Buffao Ashbasher | - | BUNNY SUCKLE |
| Jena Milliner | - | BLOODY VOLENTINE |
| Karin Rozendaal | - | SCURVILICIOUS |
| Kurt P | - | FLUTTERMOST |
| Pete. | - | GRIMETIME |
| Will Reiser | - | FIREBALM |
| Kristina Kiefer | - | GRIMEPIECE |
| James Tanner | - | WHIMPULSE |
| Ron Mansolino | - | FLAUNTLET |
| Patches O'mazing | - | BOB |
| Joseph Colicchio | - | SLAUGHTERFOWL |
| Jacki Freeman | - | BATTLESAX |
| Angry Dave | - | PIMP SCAMPI |
| Becky Albert | - | DAMAGE, JR. |
| Paige | - | BILLY THE SQUID |
| Michael Tighe | - | BOXTROT |
| Felicia S. | - | GIGAWROUGHT |
| The Tramels | - | CZARPETBAGGER |
| Kriegfodder | - | SOUTHCRAW |
| Nick | - | HORSE CRISPERER |
| Todd "Butters" Bodene | - | MICROKNAVE |
| Kevin Ramsay | - | TOMASHOCK |
| Rotem Raviv | - | SCRAPEWORM |
| Laura | - | BRIARPROOF |
| Mapguru | - | THE SORDID |
| Eve Adler Davis | - | SUGAR WOOKIE |
| Deb S | - | SQUALLRUS |
| MKat | - | THORAX |
| John Johnson from Iowa | - | SNAKEOUT |
| Erock Vandalizer | - | CHARPOON |
| Thomas Murphy | - | MISS NEBULOUS |
| Spenser Davison | - | FJORD PREFECT |
| Haley & Rick Blake | - | ORCA THIEF |
| Brian | - | BATFLAN |
| Charlie's Mom | - | POLLYAMISH |
| John Shideler | - | T-REXPONENTIAL |
| Jared Lee | - | PHLEGMINI |
| Josh Norris | - | ROCKING BEAR |
| Paola Rosciano | - | LIEUTENANT BIGFOOT |
| Sylvia Reiser | - | PELOOTHERED |
| Bentfork | - | DR. VECTOR |
| Jane Dooley | - | JANEWASH |
| Daniel Gow | - | BLACK GEYSER |
| Ed Howland | - | ROCKET SQUARE |
| Doctor 'Liz | - | DELUSIONS OF PASTEUR |
| Sarah H | - | GUTTERSCOTCH |
| L. Gooding | - | STUBBLE TROUBLE |
| Ezra Lee | - | MUSK |
| Mary Canary | - | CZARFISH |
| Thomas Weir | - | THE AQUEDUCT |
| Randy Johnson | - | CASKMASTER |
| Dael | - | STINGSHOT |
| Morgan Markowski | - | COMMANDER CATASTROPHE |
| Samwise | - | VIGILANTE, ESQUIRE |
| Anne M. Carroll | - | LIMBOLIC |
| Caleb Smith | - | QUAKESPEARE |
| Lumen | - | CAPTAIN PLATYPUS |
| Emily Ann | - | SHRIMPANZEE |
| Jordan Francis | - | LEGS BENEDICT |
| Sara Rae | - | GINDIVIDUAL |
| Forrest | - | PORQUE WRENCH |
| Duncan da Husky | - | AMUCK |
| Joycel | - | COMMODORE CONVEX |
| Mike Crane | - | WHISKEY FLOWER |
| Participle Man | - | BAWDYGUARD |
| 'shlee DesRos | - | CHALKEYE |
| Doc Carr | - | SCUTTLEWHAT |
| Greg Stephen | - | GNUDRIVER |
| Laura Matheny | - | CAPTAIN SHEEPSHANK |
| Derek | - | KNOTGUN |
| Rozzie Kopczynski | - | BARBED FIRE |
| Ashtan Albright | - | HIVEWIRE |
| Emma | - | CROWSQUALL |
| Richie Powers | - | PRAWNSOON |
| Emily Lind | - | GRIZZARD |
| Breanna Ammons | - | QUAKESKIN |
| Jacob J. | - | SLINGKNOT |
| Katherine Gleason | - | STRIFEHACK |
| Michael, Bringer of Kittens | - | BLOOD TWISTER |
| Chris Lofgren | - | ZOMBIE GRUNTER |
| Chris Bov | - | GLOATHERDER |
| AVG | - | DISASTERMIND |
| Erin L. Parker | - | BACKSNATCHER |
| Roberto M. Merza III | - | MIMESWEEPER |
| kitty | - | WHATEVERMORE |
| Danielle M Young | - | THE OVERGOURD |
| Limisios | - | GEESEMAKER |
| Connie the Fabulous | - | SMIDGENHAWK |
| Sarah Mongiat | - | FLUTTERBALL |
| FLY | - | ABYSSTERIOUS |
| Trent Sutherland | - | BITEWEIGHT |
| Craig L Wittler | - | CRINGERBREAD |
| Dawn Matlock | - | GUILEDRIVER |
| Toscanini | - | CHUCKDRAGON |
| stancyclops | - | PLUNDERFISH |
| Alex L. | - | BEEFORESTATION |
| Logan Trimble | - | GRAILFEATHER |
| Michelle McCune | - | SLEDGETARIAN |
| Brendan Leber | - | RUMSUCKER |
| Carin Basson | - | HURLWIND |
| gladdecease | - | RATTLECAKE |
| Nick Morgan | - | SMITEHOUSE |
| Elizabeth Reale | - | FLANSLAUGHTER |
| Inara Herriott | - | BLOWSCORCH |
| BrianC | - | DEADLY KNOWFISH |
| Chase Ivo Eichhorst | - | RUBBLEMAKER |
| P. Linggi | - | QUIRKHORSE |
| Matt Black | - | SCARPENTER ANT |
| Adam Whitcomb | - | NAILSTORM |
| Lucas P. Ingram | - | ZENGINEER |
| Michael Cullum | - | GRAMMARHEAD SHARK |
| Terry M | - | DISPATCHET JOB |
| Desiree E. | - | GNOME RUN |
| Britt Treichel | - | KNIFELINE |
| Dave and Sarah | - | THUNDER AND SMITELING |
| Sam Seering | - | STABGRASS |
| Sarah Warburton | - | LIMEFIGHTER |
| Mike | - | MIRTHQUAKE |
| Tamara L. Siuda | - | FREECIPITATION |
| Lady Giggles-a-lot | - | ETHEL ALCOHOL |
| Chris "Podima" W. | - | BEWAREWOLF |
| Kim Craigs | - | MELLOWJACKET |
| Randi Zachary | - | CHOPDUSTER |
| Michele Hall | - | FREEZESTEAK |
| William | - | FLAMEPLAN |
| Mike Meador | - | THOROUGHSHRED |
| Zachsquatch | - | TRAINSAW |
| Hal Tepfer | - | SPLATTERING RAM |
| John Blank | - | RATTLETANK |
| Cutty Darke | - | SOREGOAT |
| Sarda | - | SCORCHLIGHT |
| pepperkitten | - | THE WONDERHANDED |
| Elizabeth Denton | - | SHARKLE MOTION |
| Alex Katz | - | CZECHOLOCATION |
| Jesse M. | - | VAMPFIRE |
| Aimee Gerdes | - | MARMOT KING |
| Coyote Seattle | - | CHARTREUSE SHRIMP |
| Sue Andrews | - | CAT O' SPINE TAILS |
| Matt Burnham | - | FLUKEULAR FISSION |
| Scott Patten,DMN | - | FLINGSLAYER |
| Chris Bourgraf | - | FREEQUILIBRIUM |
| Brett J. Gau | - | WINESTEIN |
| Jeremey Falkenau | - | LACROSSEPHOROUS |
| Chad Long | - | DOWNSKINNED |
| Roger Rice | - | SULFURIC PLACID |
| Doctor Roux | - | ATTACKEDIVATION ENERGY |
| Forkl | - | PLUNDERSTORM |
| Drew Wendt | - | CINNAMON FRENCH GHOST |
| ghostdirector | - | GLANDCASTLE |
| S. Morin | - | VANDALSTICK |
| Agie K | - | SPAWNSOON |
| Daniel | - | STARSIGHTED |
| Ian M. Melsom | - | SCARGOPLANE |
| Brian Bencie | - | GUNSTROKE |
| TemptestChaserZ | - | SHINETIC ENERGY |
| Kenneth Owen | - | ROMANTIC PRAWNDEZVOUS |
| Ms. Mac | - | SCANDALABRA |
| Gerry Campbell | - | SASSHOPPER |
| Bree Clark | - | WRECKTOPLASM |
| Heather Newman | - | SINTERFERENCE |
| Darth Mango | - | SPACEMASK |
| J. Hunter Park | - | MACHIAVELLIFISH |
| Cameron Ziegler | - | CREEPSAKE |
| Jordan Johnson | - | GULL AND SAUCEBONES |
| Emma-Lea Davis | - | CHALKETSHIP |
| Dylan Spector | - | TRASHTEST DUMMY |
| Bryan P. | - | PETRI KNISH |
| Eric M. | - | BREATHBLOW |
| Jenna Sullivan | - | BLISSUNDERSTOOD |
| Adam Silva | - | CHALKNESS MONSTER |
| Ally Yohn | - | QUASAR CAT |
| Jill | - | JAWSSIERE |
| Jackson Jewell | - | COWSTRIPPER |
| Liz Burgess | - | TRAINSTORM |
| Liz Cloos | - | CZARMONIC MOTION |
| Michael J. Geiser | - | BLOOPERNOVA |
| Monkton | - | OHMOSOME |
| Steve Mulligan | - | BASS CLEFOLOPOD |
| Jeff Albright | - | GLANDFATHER |
| Dave Chapin | - | BROTOSYNTHESIS |
| Velocilott | - | CRASSTEROID |
| Ukie | - | VINYL TAP |
| Susan Pasko | - | SCREEQUENCY |
| Samuel | - | THE WALKING BREAD |
| Sam Mouat | - | SCRODDJOB |
| Dan | - | BUCKET TRYST |
| Amanda Smith | - | THUNDERTAKER |
| R. A. Davis | - | FRAPPEZOID |
| Liza Dane | - | SHRILLIPEDE |
| Tegan | - | SCHEMECATCHER |
| Marissa Waldridge | - | SEA NUKECOMBER |
| Thomas H. Cox | - | CRUST IN THE WIND |
| Daniel Wolf | - | SHRIFTWOOD |
| Eli Cassell | - | GOURDWILL |
| Marilyn Lugner | - | SQUIRRELFRIEND |
| Aaron Mayzes | - | GUISEFIGHTER |
| Bradley Momberger | - | TORQUEUPINE |
| Kurt "The Ginger" Terhune | - | DOOMULONIMBUS |
| Markie Moraga | - | STRESSOPHAGUS |
| Candace Korasick | - | GRILL SCOUT |
| obsequious newt | - | DEATHOSCOPE |
| Shuai | - | CRYPTONITE |
| Connor Escamilla | - | SHREDULLA OBLONGATA |
| Lesley | - | GILLMASTER |
| Andrew Czudak | - | DOLPHIN-STRAFED TUNA |
| Robby Stone | - | BRUSSELS TROUT |
| Rachael Tanaka | - | SQUALL BLADDER |
| Patrick Patzer | - | FREEPRODUCTION |
| Roger | - | ZEUSBERRY |
| Everett Baker | - | SCORCHWOOD |
| Chloe V. | - | NEBULOUS OPOSSUM |
| Brittny O. | - | SPLEENHEARTED |
| Katherine Sippel | - | SASSCUTTER |
| John Embree | - | GOURDEAUX |
| Stephanie Cheshire | - | DRAGONSCYTHE |
| Josh Thomson | - | BEAGLE-EYED |
| Joel and Nadine MacDonald | - | TROUBLESPEAK |
| Jennifer Bonetti | - | GLASS THROWER |
| R Schulz | - | BARBARY GHOST |
| Mr. Gremlin | - | SHARKHORSE |
| Wesley Prescott | - | SQUIDNAPPER |
| Jack Kerr | - | DEMONIC LAGOMORPH |
| Indiraa | - | KRAUTER LIMITS |
| Werner Greindl | - | THREATSTREAM |
| Brian Excarnate | - | PRAWNTAMINANT |
| Julia | - | THE MANIACAL HAMSTER OF DOOM |
| Mike | - | MEATSTROKE |
| Dunk the Funk | - | SECRET POPE |
| Sarah the unicorn!!!! | - | DOOMSTICK |
| Patrick Stanley | - | PEACE MONKEY |
| Joanne Baillie Egan | - | BRAINS OVER PRAWN |
| keninwa | - | JACKGRAMMAR |
| Patrick Culhane Unger | - | HEMOGOBLIN |
| Christina Foster | - | STARDIAC ARREST |
| Ealasaid Haas | - | CHALK 'N ROLL |
| Valentina O. | - | ABYSSTERIA |
| Jeremy T | - | LENTIL FLOSS |
| Erin & Thorne | - | SASSTROPODS |
| Julian Sammy | - | DAMNESIA |
| Chani Robertson | - | REXCLAMATION MARK |
| Zeouterlimits | - | LIMBPERFECT TENSE |
| Dylan Steer | - | POULTERHEIST |
| Samantha Isler | - | CROWTALITARIAN |
| Greg | - | BEARRISTER-AT-LAW |
| Kevin Failor | - | SQUIRRELWIND |
| Elizabeth | - | DROP-BREAD GORGEOUS |
| Rebekah Van Epps | - | HYPNODERMIC NEEDLE |
| Keydmer | - | RAZORSHOW |
| Erin E. Greene | - | FRAU DERKEG |
| Rachel Folk | - | BOMB BEFORE THE STORM |
| Linnea Johnson | - | PSITROGEN |
| Rebecca Nels | - | CHALKINGBIRD |
| Malachi | - | FLAMESOWER |
| Lars Colson | - | SNOBGOBLIN |
| Daniel S. Keenan | - | PLANTOMIME |
| Stephanie | - | SPOONRAKER |
| Bob Raibourne | - | HIPPOCRATIC SLOTH |
| Andrew Popp | - | METAMORPHIC BACH |
| C. Barney | - | GREATHOVEN |
| Jennifer Pelowitz | - | BEWAREMAIL |
| Jeffrey Thompson | - | BISQUEY BUSINESS |
| Capt. William Fleming | - | FLAIRCROW |
| Lindsey Saxton | - | BLITZOPHRENIA |
| George Trello | - | HEMPERATURE |
| Zeidz | - | TOASTBUSTER |
| Steve Masterson | - | FIREOTTER |
| Karen | - | GNUPERFECT SUBJUNCTIVE |
| Jessica Patz | - | KNIGHT TRASH |
| Caitlyn Hall | - | BRASH GRENADE |
| Josh O'B | - | CHALK HOLLIDAY |
| Chemo | - | CENTRIFUGAL HORSE |
| Ed Kowalczewski | - | PRAWNTREPENEUR |
| Leo Johnson | - | GNUTONIUM |
| Marie Evans | - | PRAWNTUM MECHANICS |
| Randi Misterka | - | TOXIC CHASTE |
| Linda | - | DESCARTESWRENCHING |
| Chuck G | - | CANUCKLEBALL |
| Bill Malvasi | - | CARVING TORQUE |
| Jacob O. | - | SCARREDVARK |
| David W Gustafson | - | PUNCHING STAG |
| Jim Meyer | - | POWDER KEGOSAURUS |
| Miss Page Jones | - | HAMMERHEAD QUARK |
| Kelly M. | - | SCORCHBEARER |
| Jon Buening | - | KNIFESAVER |
| Gary "Rocktober" Kurowski | - | HERMIT STAB |
| Josh Bindi | - | BRAWNNOISSEUR |
| John P. | - | FLAILSTORM |
| Ashlee Nelson | - | SPOOKABURA |
| Lamat | - | PSICERATOPS |
| Nicholas Edwards | - | BROTHER NARWHAL |
| K.Coppins | - | PREP GHOUL |
| Morgan Nail | - | CAFFEINEUS FLY TRAP |
| Gavin Rogus | - | MIRTHWORM |
| John Hergenroeder | - | WINEOCEROUS |
| Ashley Mighty | - | BEARISTOCRACY |
| Jen | - | FLANGANESE |
| Kate Moon | - | CRABOTEUR |
| Thomas Garcia | - | CHALKSYGEN |
| Kari Collins | - | CLOWNWIND |
| Adam Miller | - | MIDKNIFE CRISIS |
| Martin Richard | - | FLAMEBRAIN |
| Ashtin Callaghan | - | BRAWNMOWER |
| Stephanie Franklin | - | TREEQUILIBRIUM |
| GFedds | - | LASERTOOTHED TIGER |
| KNM | - | SNIDAL WAVE |
| James Brown | - | MONSIEUR REALISM |
| Sverre Rabbelier | - | BEARACCUDA |
| Matt Montney | - | GRUMPBACK WHALE |
| Seth Hetu | - | SPOONGAZER |
| Nick Zanet | - | FLAILBACK |
| Nick Kraft | - | HOSSQUITO |
| Ben Nash | - | PSISOSCELES |
| Shanahan | - | SLOTHBREAKER |
| corpse | - | CHALKJAW |
| Chris Vogt | - | BEARALLELOGRAM |
| Phillip K. Vinyard | - | ALPHA SNAIL |
| Barbara Miller | - | MYRRHPENDICULAR |
| Mayday | - | FIGONOMETRY |
| Darth Skytroque | - | BROSON |
| Fracture | - | BEARYLLIUM |
| wombat | - | SAFETY LASER |
| Rae Wood | - | STABAPPLE |
| Rebecca Gearty | - | ADMIRAL BOMB-OMB |
| Dave S | - | GRINDHEARTED |
| Corbyn Johnson | - | AGENT TAUPE |
| Kenneth | - | CHALK STRAP |
| Jeff W | - | WOODSHIRKER |
| Tarzy Tea | - | SNOBSOLETE |
| Sanders, Christian | - | GNAWLUMINUM |
| Alia | - | SQUIRRELED PEACE |
| Anonymous | - | DR. RACONTEUR |
| Hannah Holman | - | MS. PROMETHEUS |
| Julia Kedge | - | JURASSIC SHARK |
| Lauren K. | - | BELLEOCIRAPTOR |
| J. Welch | - | FLAXSWEDE |
| Marikka | - | BIOLOGICAL CHALK |
| Rob Buktenica | - | CAFFEINEING OF LIFE |
| Emilie | - | MOBSTER BISQUE |
| Elizabeth Graf | - | WORMINATOR |
| Noah Halford | - | SPAMDIGGER |
| Chris Sarnowski | - | QUARKPLUG |
| Eleanor S. | - | SQUIRRELED HISTORY |
| Larry the Benevolent | - | THE FORSQUIDDEN FRUIT |
| Jason Slagle | - | SCRAGNESIUM |
| Angela Goad | - | SASSTROINTESTINAL |
| Laura T | - | GHOULHARDY |
| Gabe Hoffman | - | JABBERFOX |
| Weston "Not-related-to-the-band" Arrowsmith | - | MR. RUNESMITH |
| Matt Appuhn | - | GLYPHHANGER |
| Corey Mease | - | BATTLELIZARD |
| cykia | - | KNELLCASTER |
| D. Tänzerin | - | AQUABENZENE |
| Mike and Emily | - | WAFFLEBREAKERS |
| Christine Haselberger | - | PSYTANIUM |
| Anne O'Connor | - | MOOSE SPRINGSTEEN |
| Shanna | - | SEDIMENTARY BACH |
| Dezzles | - | WOLFGANG AMADEUS CROWZART |
| Katie Rishel | - | SHOWER POWER |
| Keith "Crowbar" Dye | - | SERGEANT CHARTREUSE |
| Kimberly Ahokas | - | BATTLEFLAX |
| David Franklin | - | FLOPTHREAT |
| Trisha B | - | BOARILLA |
| E. Goeke | - | CHALKWORK ORANGE |
| Myles C. Allen | - | SLURVEBALL |
| K.B. | - | STORMGROUPER |
| Kayla Christianson | - | NANOSPELUNKER |
| David "Goatkeeper" Cabrera | - | PUNK YARD |
| Isaac Mendel | - | CONDORLUST |
| Joe Rodriguez | - | CATATHRILLER |
| Christina Pila | - | HELLODRAMA |
| Adrian Berliner | - | SCRUFFRIDER |
| Daklu | - | SWANFIRE |
| Abby Limbach | - | CRAWBREAKER |
| Sarah Rubenfeld and Josh Radzin | - | THE SHAMEBERMAID |
| Alyssey | - | BOAR HORSEMEN |
| David Falterman | - | SUPERCABRA |
| A Boulter | - | PRUNEICORN |
| Ben T | - | EXSPHINXTION |
| Isaac Pomper | - | FLARE CUB |
| Nancy Kindraka | - | VODKA SHUNRISE |
| Sir Gentleman Archduke of Yore, General of the Greater Western Fleet, Don Darth Christian Distasio, D.Sc. | - | STURGEON GENERAL |
| Brian M | - | DR. MINOTAUR |
| Kyle Rothfus | - | FLOPPELGANGER |
| Doug Dean | - | GROUPERHERO |
| Pat Thorman | - | CAFFEINEWHILE |
| Joseph Preston Schmigel | - | GHOUL'S GOLD |
| Randiman Rogers | - | SQUIRRELESQUE |
| Audrey Sleeper | - | SHAVING LASER |
| GrumpyPig | - | YELLOW STABMARINE |
| Christopher Himes | - | RISKY SOUR |
| Kevin Ralph | - | T-REXPRESSIONIST |
| Henrik Lindhe | - | GNOMEBREWER |
| Leigh Ann Hamel | - | SWAN QUIXOTE |
| Ruven Pinchasov | - | CHALKPOT |
| Erin M. Root | - | EXPLODERUNNER |
| Kimberly Schmidt | - | THE QUARKING DOG |