Surviving the World
A Photocomic Education by Dante Shepherd
Lesson #2741 - Racism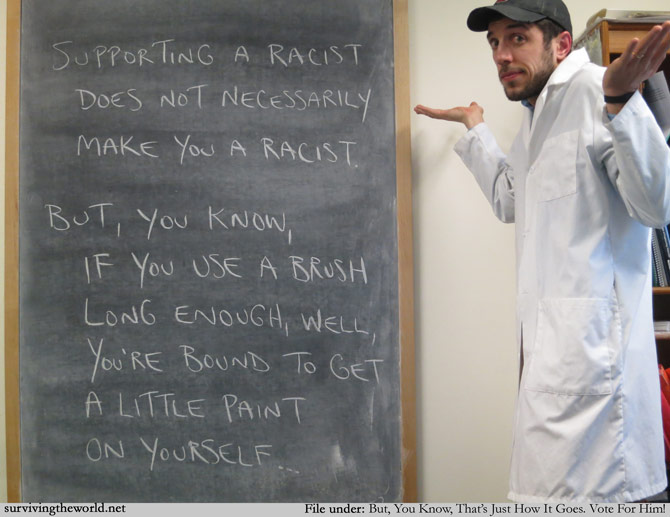 I'm a big fan of the politicians who are denouncing Trump for his racism and then in the next breath saying that, but of course, they'll support him as the nominee. And of course every voter who supports him isn't a racist, either - of course that's not true. But a good number of them are! So when you rally in support of someone, look around for a minute and check to see what rally you may have ended up joining.
Honestly, if you think anything about Trump is funny at this point, as compared to mildly-to-extremely terrifying, it's time to stop ignoring potential reality.
STW SHIRT SALE: Right now through Thursday, March 3, you can get any and all STW shirts on sale for 15% off! Just use the coupon code SPRING16 at checkout!
PATREON: My STW stand-up / storytelling routine is posted for Patreon supporters - if you're not a supporter, maybe think about becoming one? Your support allows me (and Joan) to keep making more and better comics - and made it possible for us to get the science comics grant in the first place! Even $1 a month is a huge, huge help. Thank you, all!