Surviving the World
A Photocomic Education by Dante Shepherd
Lesson #3010 - Matter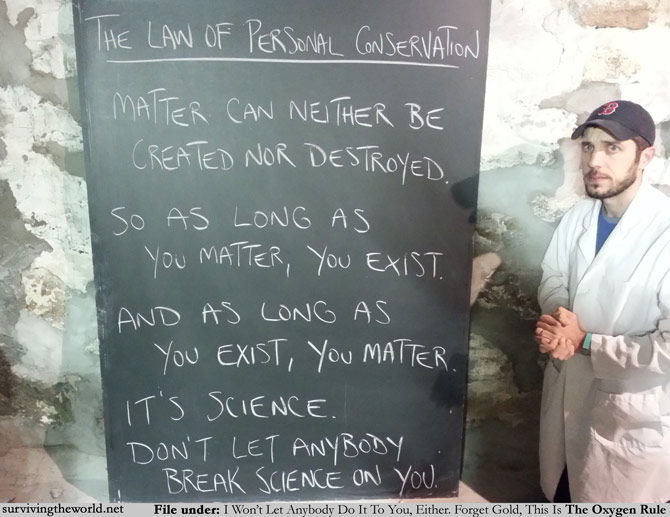 So there's your baseline for the foreseeable future.
Now, mind you, when discussing laws of conservation, we could divide an entire system into component balances, thus taking individual groups or species and considering them separately to make sure they are conserved. The overall law of conservation still holds, but certainly a perspective can be applied that shifts the focus away from the whole in favor of a select group. The point is that if you are confident in your personal conservation law, don't forget to go beyond and make sure certain other components are conserved as well. Because it's easy enough for those with the calculators to start employing some bad math and leave an outcome that is wrong in more ways than one.
Boy, this is uplifting. Welcome to the new STW. It'll be like this until the end, apparently. The end of whichever comes first, I guess.
BLACK FRIDAY / CYBER MONDAY DEAL: All STW shirts are 15% off AND you can get free shipping on them through the end of today! Just use the coupon code "2016OMG" at checkout!
STW GOODS FOR THE HOLIDAYS: There are a lot of good non-shirt STW items this year, including the only holiday cards you want to offer this year that also happen to have squids on them, and report cards for life!