Surviving the World
A Photocomic Education by Dante Shepherd
Lesson #3028 - Slogans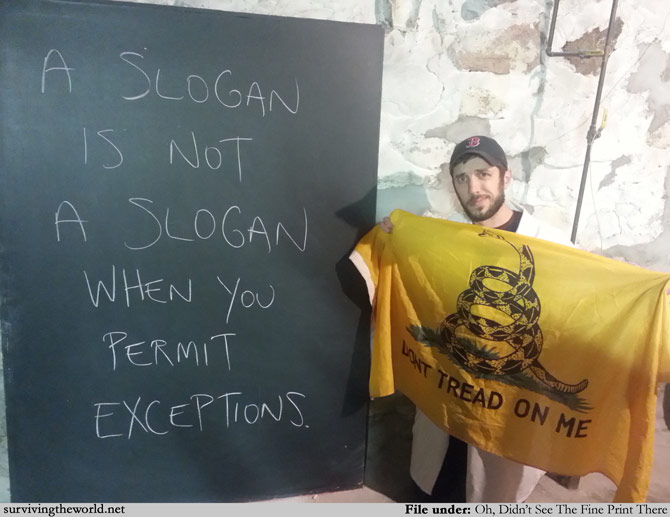 I'm not sure if I mean this more with respect to some of the responses to the Russian hacking or to the legislative coup in North Carolina. I've owned this flag for years before it became a Tea Party mainstay, and I wonder how many of those who hoisted it for years as a mark of defiance are now taking a sharpie to add an asterisk followed by "* - BUT THEY'RE ANOTHER MATTER".
Things are going absurd and I hope we can find all the pieces to put the puzzle back together much much later on. In the meantime, a moment of good to do would be to read up on the Moral Mondays movement and what they've done, as I'm sure we'll be looking to see how it expands out and the rest of us should be taking part.
If you would like a moment of good to enjoy, to help rejuvenate your spirit, I taught Torpedo the joys of and how to dance to Wheatus's "Teenage Dirtbag", so you can imagine a father-daughter waltzing around the kitchen.