Surviving the World
A Photocomic Education by Dante Shepherd
Lesson #1307 - Snakes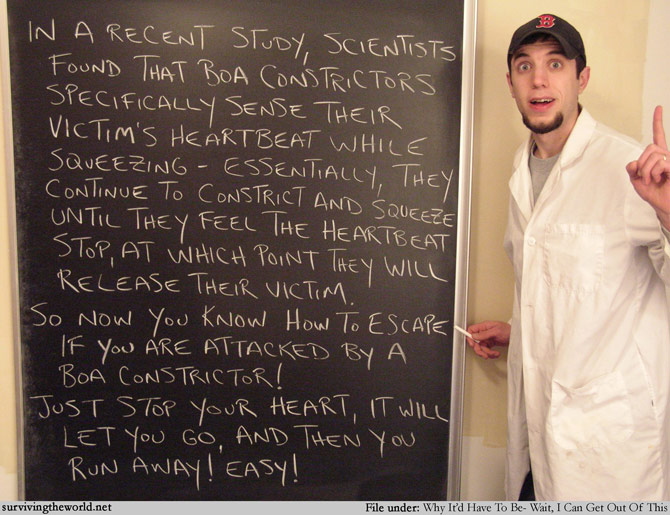 I'm not sure how it works, but hey, at least it's a plan. Better than wriggling around and running out of air, right?
- There's still time to register with the National Marrow Donor Program while costs are covered.
- A reminder: the "High-Five" homework is due this Thursday.
- - - - - - - - - - - - - - - - - - - - - - - - - - - - - - - - - - - - - - - - - - - - - - - - - - - - - - - - -
PAST HOMEWORK: The assignment was "In less than 200 words, explain why someone is an unsung hero to you." Most of the responses were heart-warming, some were amusing, and in my opinion, the best answer came from Steven in Burnsville, MN:
(to the tune of "Battle Hymn of the Republic")

Bill Beery was a rifleman in 1943,
He was a banker in his twenties, just a man like you and me.
With a wife and baby, still he had to join the infantry,
And he headed off to war.

For three months he served in combat and he did his very best.
Eighty-seven days of hell he struggled on without a rest.
In the Battle of the Bulge he took a bullet in the chest
And they sent him home from war.

When he got his discharge papers, he went home to see his wife.
He spent a month recuperating from the bloodshed and the strife.
Then he went right back to banking, taking up his former life,
When we met he was 94.

We talked one summer day about his memories and fears,
While he told his story he broke down in unexpected tears.
The memories had bridged a gap of many busy years,
Back to 1944.

He isn't in the songs of praise that anybody sings,
He just says that in the war "we did some necessary things."
But if you ask me he's a hero, rising high on glorious wings.
Now he is unsung no more!
Well done, Steven, and thank you to everyone who sent in an answer. Enjoy reading through them.